Discussion Starter
·
#1
·
Well, took Gretchen to the 2006 National Sieger Show down in North Carolina this past weekend and we had a blast ! The best of the best in the country were there and it was quite a show. A friend of mine and I went down with FOUR Rottweilers in a Ford Explorer
. 16 hours each way and the dogs were great !
My friend took three dogs. He took a 6 month old pup he got from Serbia and two 2 1/2 year old males. I took my back yard bred girl with her fly away ears and we all went down to have some fun. Friday morning my friend won 1st place in 6 - 9 month female puppy and came to within a millimeter of winning BEST FEMALE pup over all. My girl Gretchen's class had 13 dogs and most of them were top notch. As the judge let people go we made it down to FOURTH but there were only 1st , 2nd , and 3rd
. In the puppy class they have four ratings your pup can get ... a VP ( very promising ) , a P ( promising ) , a S ( satisfactory ), and a NP ( not promising ). You can also be released. I was pretty shocked to see dog after dog go away and we were still standing there. The entire thing cam down to the dogs running ! When the judge came over to let us go he explained why she runs so poorly . Her angulation is very even but not the best so when she runs she doesn't show the power and drive he is looking for in a Rottweiler. She needs more angulation. He also told me that over in Europe where he is from he has friends who are breeders who would KILL to have a Gretchen head on their dogs. He said don't love her any less tomorrow than you did yesterday because she is a very nice dog. I told him not to worry about that because we would be in the same bed that night
. Sooooooo, my little backyard bred female got a "P" rating and I was very happy. She has fly away ears, slightly turned out front feet, and only fair angulation but over all he was impressed with her.
The two males that belong to my friend ... the first one got 4th place trophy in 18 - 24 month youth and the other didn't do too well.
I also met a member from here on Rottweilersonline. I met Redyre Rotties and her very pretty girl Penny !
I took some pictures.
Gretchen ...
Judge explaining her faults...
some of her competition ...
Me and gretchen ..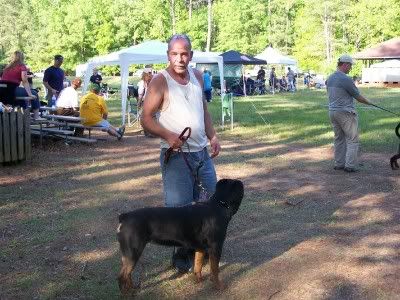 My friend and Ivonna Iron Lion ... 6 month old winner ..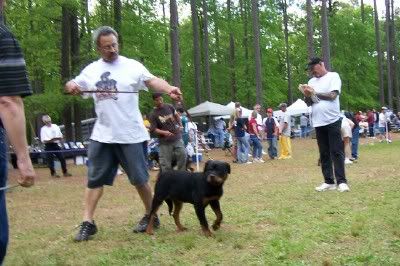 and member Redyre Rotties ...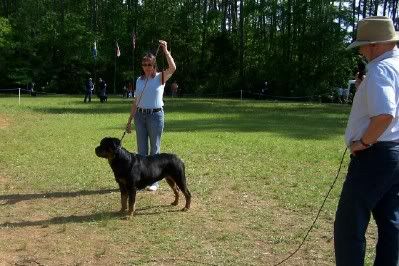 this is Penny in her coat... so cute